Saturn's satellites & moons
Contents
Like Jupiter, Saturn has a large amount of moons that surround this gas giant. These moons are also grouped together in family groups just as Jupiter's moons are, however, Saturn's moons are also divided into subgroups as well. There is a total of 7 satellites, 46 moons, 3 Trojan moon groups, and 9 provisional moons that have been discovered so far.
Saturn's Moons
Note: Many of Saturn's moons are located in its 9 rings. These rings were named using the letters of the alphabet as they were discovered, and so they are not in order. Going from the planet out these rings are D, C, B, A, F, G, and E.
Inuit Group — consist of 5 moons (Kiviuq, Ijiraq, Paaliaq, Siarnaq, and Tarqeq) which follow a prograde (same direction as the parent) orbit around Saturn. The inclination is approximately 40 to 50 degrees around Saturn, meaning their elliptical orbit around Saturn is at a 40 to 50-degree angle. Their eccentricities (degree of orbit compared to circular or elliptical, 0 would be circular, 1 and up are elliptical) are at .15 to .48.
Gallic Group — consist of 4 moons (Albiorix, Bebhionn, Erriapus, and Tarvos) that follow a prograde orbit around Saturn. They have an inclination of between 35 and 40 degrees and their eccentricities are at approximately .53.
Aegaeon — is relatively small, at only 1/3 of a mile wide, and located in Saturn's partial G ring and does not belong to any family group. It is believed that this "moonlet" is the main source of the ring. Aegaeon is Saturn's smallest moon and is elongated in shape. Aegaeon's density is similar to water ice and it has an albedo of .15.
Anthe — orbiting between Mimas and Enceladus, Anthe is approximately 1 mile in diameter. There is strong belief that Anthe (along with Methone and Pallene) may actually be parts of either Mimas or Enceladus that had broken off. Another belief is that they all belonged to a larger collection of asteroids that got caught in Saturn's pull.
Pallene — is located in orbit between Mimas and Enceladus along with Methone and Anthe. This little moon is in a dynamic relationship with Methone and Anthe, basically, the three moons along with Mimas and Enceladus assist one another in their rotation and movement. The moon is approximately 3 miles (4 km) across and takes about 27 hours to complete its orbit around Saturn.
Saturn's Trojan Moons
A Trojan Moon is a moon that shares an orbit with another, larger moon. They move in a synchronized fashion and never collide with one another. The "Trojan" can either be trailing or leading the larger moon it shares it's orbit with.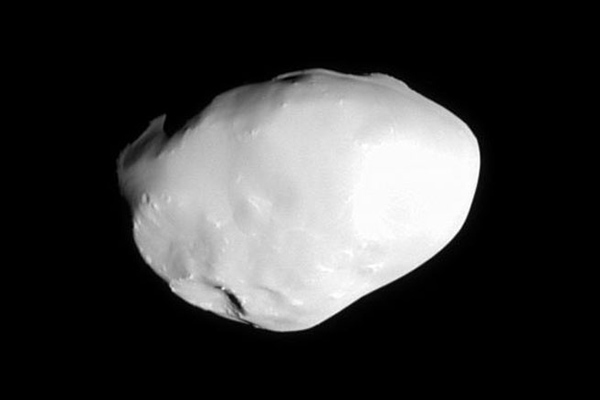 Telesto / nasa.gov
Calypso, Telesto, & Tethys — Calypso "trails" after Tethys which is lead by Telesto about 60 degrees. These small moons are approximately 14 to 15 miles (23 to 24 km) across in size and are irregularly shaped as most Saturnian moons are.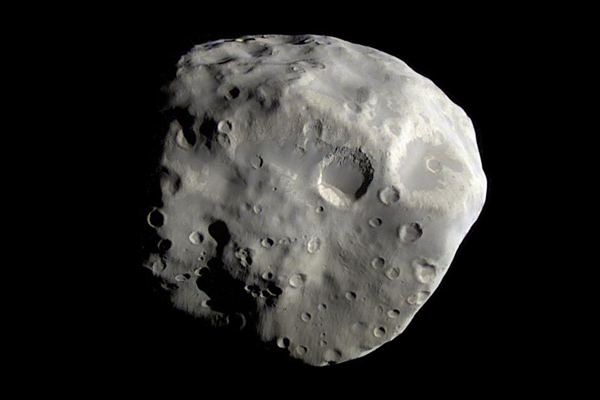 Epimetheus / nasa.gov
Epimetheus & Janus — is in a co-orbit with Janus and strangely enough switches places. There is approximately 50 km (31 miles) difference between them so there is no danger of collision between the two. Every four years these two moons switch orbits and the inner moon becomes the outer moon and vise versus.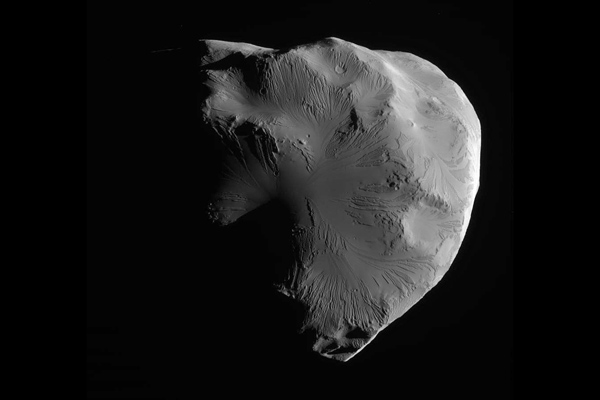 Helene / nasa.gov
Helene, Dione, & Polydeuces — Helene co-orbits with Dione which in turn is trailed by Polydeuces and is located at a Lagrange Point, basically it is a gravitational pull between the planet and a larger moon is balanced keeping smaller moons between them in their orbital placement. All three moons are irregularly shaped take approximately 2 days to complete their orbit around Saturn.
Video Gallery

Saturn's Mysterious Moons

Dark Oceans: Surveying Saturn's Moons